New Testament Reading Groups
Read through the New Testament in about 6 months, while enjoying great fellowship and encouragement!
Groups meet in homes to read aloud through the New Testament, following the schedule at right.
The ground rules are simple: Those who wish to read aloud take turns by chapter. Questions and discussion are welcome, but allowed only at the end of the reading time (about an hour) as refreshments are served.
Contact us for the group meeting nearest you.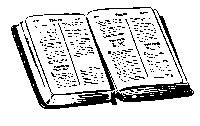 Daily Bible Reading Schedules. Reading the Bible Everyday.